Masterbulk, SeaSafe Ink Lifeboat Service Deal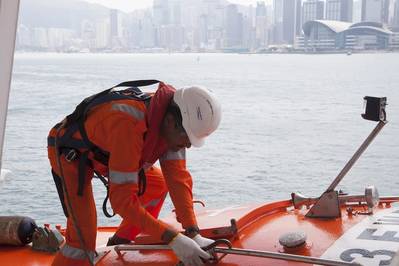 Masterbulk Singapore has entered into a five-year global sole service supplier agreement with the Wallem Group's lifeboat maintenance service company, SeaSafe Marine. The agreement is for lifeboat services on Masterbulk's fleet of 20 open hatch gantry crane vessels.
Andrew Lemmis, Managing Director of SeaSafe Marine, said, "This is the first fleet agreement that SeaSafe Marine has in place, and I am sure it is just the beginning as our services are attracting interest from a number of shipowners."
SeaSafe Marine's current client list includes companies from across the maritime sector such as cruise, tankers and bulk carriers.
"We have engineers based in Hong Kong and China, who regularly travel around the world to deliver our services. We are soon to add engineers based in Singapore, the U.K.,
Mainland Europe
and U.S.A.," Lemmis said.
"Our clients have a need for maintaining lifeboats, but we offer much more than just standard services. Once on board, we also service gangways and accommodation ladders at no additional cost. Other benefits include pre-docking surveys, condition assessment checks on newly added tonnage and two visits a year on each vessel.
"We also consider it important that crew are proficient in using the equipment, which may well save their lives one day, so we also assist crew in performing drills and provide equipment-specific familiarisation training all in the attractive flat fixed service fee."
SeaSafe Marine is an Independent Lifeboat Servicing and Testing Organization (ILSTO). It is an authorized representative of major lifeboat and davit manufacturers, with Class and Flag approvals.
Wallem Group's other third party services includes Marine Buying Services, which
delivers procurement services
to third party ship owners and other maritime businesses. MBS lowers operational costs by using economies of scale derived from planned project purchasing while allowing ship owners to remain in control of all decision making.