Guardian Salvage SUPSALV Masterminded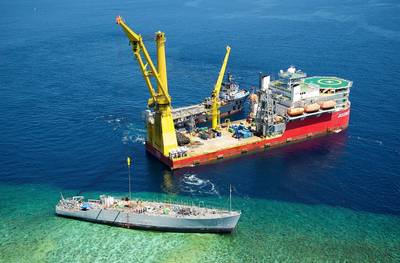 Naval Sea System Command's (NAVSEA) Supervisor of Salvage & Diving (SUPSALV) continues to support the removal of the wreck.
Guardian ran aground on the coral reef Jan. 17, while transiting the Sulu Sea. After the initial grounding, strong winds pushed the mine counter-measurees ship parallel to the reef and further aground causing flooding and structural damage which prevented refloating of the vessel or removal of the ship intact. 


SUPSALV is part of a command task unit established to perform the salvage operations and are providing salvage expertise and equipment to conduct operations. NAVSEA shipyards and engineering directorate are assisting SUPSALV providing engineering expertise needed to execute the salvage plan.

In addition to performing the initial salvage assessment, SUPSALV oversaw the removal of fuel, lubricating oils, hazardous material and all loose items that could be salvaged from the ship. 



"The removal of Guardian from the reef requires thorough planning, and operating in an environment 80 miles from the nearest port presents many challenges," said Capt. Mark Matthews, supervisor of salvage and diving. "The environment on board Guardian requires constant vigilance. We brief safety every morning, are cognizant of the risks involved with working in severely damaged ship spaces and strive to minimize injury to personnel at all times."

SUPSALV is using two heavy lift cranes to conduct the salvage. JASCON 25, a pipe-laying construction vessel, is the primary salvage platform and is able to position itself within 40 meters of Guardian and operate her crane without the need to set anchors to prevent further damage to the coral reefs. The second crane, Smit Borneo, arrived on site in February and supports the loading of salvaged sections onto an ocean-going barge for transport to a shore facility. 



Operations are expected to continue into April 2013, until the ship has been removed and the reef cleared of any remaining debris. Operations have been suspended several times because of storms in the area impacting the ability to safely conduct operations.