Iranian Port Deal: Modi's Masterstroke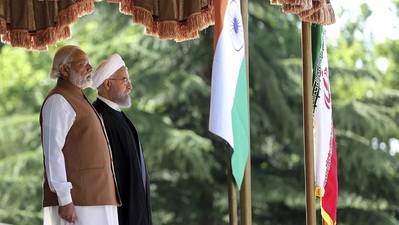 Indian Prime Minister Narendra Modi signed a deal to develop the Chabahar port in Iran for which India will extend $500 million. The historic pact makes Chabahar the first foreign port which India is involved in developing to such a large extent.
India and Iran, along
with Afghanistan
, have agreed to develop the southern Iranian port of Chabahar, giving India vital access to Central Asia, as well as highlighting regional rivalries and burgeoning friendships.
The main contract on Chahbahar port was supplemented by a contract between the Ex-Im Bank of India and Iran's Ports and Maritime Organisation with a capital back-up of $150 million for developing the port.
"With our joint investments in Chabahar, we can connect India through a reliable route to Afghanistan and countries in Central Asia," Iranian president Hassan Rouhani said. "The agreement today is not only an economic document: It's also a political and a regional one."
Speaking at the event to launch the Trilateral Transport and Transit Corridor, Modi said, "The arc of economic benefit from this agreement could extend to the depths of the Central Asian countries. When linked with the International North South Transport Corridor, it would touch South Asia at one end and Europe at another."
The Chabahar port is situated in South Eastern part of Iran, and on the northern coast of Gulf of Oman. It is surrounded by Afghanistan in the North, Pakistan in the North-East and India in the East. It is the only Iranian port with direct access to the ocean.
The location of the Chabahar port is of strategic importance to India in linking trade routes from the Indian Ocean to Afghanistan, Central Asia and also to Europe; thereby avoiding a land route through Pakistan.
From a strategic point of view, Chabahar is situated just 100 km from Pakistan's Gwadar port, the centrepiece of a $46 billion economic corridor that China is building.
"The distance between Kandla and the Chabahar port is less than the distance between New Delhi and Mumbai, and so what this agreement does is to enable us quick movement of goods first to Iran and then onwards to Afghanistan and Russia through a new rail and road link," said Nitin Gadkari, India's shipping minister said.
However, U.S. senators questioned whether India's development of a port in southern Iran for trade access risked violating international sanctions, and a State Department official assured them the administration would closely examine the project.
"We have been very clear with the Indians (about) continuing restrictions on activities with respect to Iran," Nisha Desai Biswal, Assistant Secretary of State for South and
Central Asian Affairs
, said. "We have to examine the details of the Chabahar announcement to see where it falls in that place," she testified to the Senate Foreign Relations Committee.