New McAllister Tug Features JonRie Winch Set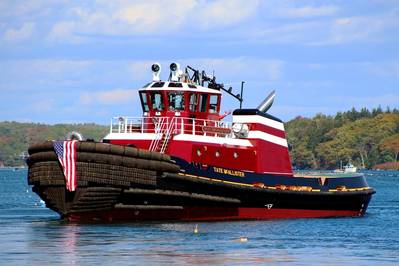 JonRie Marine Winches supplied its fifth ship set of full bollard pull winches to New York's McAllister Towing for installation on its new tug, Tate McAllister. The 92-foot x 32-foot Z-Drive tug was designed and built by Washburn & Doughty of East Boothbay, Maine. The 6,000-horsepower tug, with a bollard pull of 90 tons, is the latest addition to the McAllister fleet.
The JonRie Series 250 escort winch was designed to handle the full bollard pull of the vessel in the recover mode. The winch is capable of 180,000 pounds line pull and is suited for escort work, LNG terminals and ship assist of the new containerships to come through the new canal expansion.
The winch features active heave compensation or (full render/ full recover) feature that will also allow the tug to free wheel away for its tow and also heave in at any speed. The winch system also includes JonRie's standard foot control to allow for hands free operation of the winch press down to payout and heal back to haul in. Also included is JonRie's tension readout system with side lights and dimming for night use. The winch drum has the capacity to spool 500 feet of 8-inch hawser and a brake capacity of 600,000 pounds and a line speed of 100 feet per minute. The direct drive design allows for quick response to fast loading inertia that an escort winch must endure. The 300-horsepower hydraulic power unit and controls are all the in house design of JonRie InterTech, LLC.