New Mobile Propeller Blade Measurement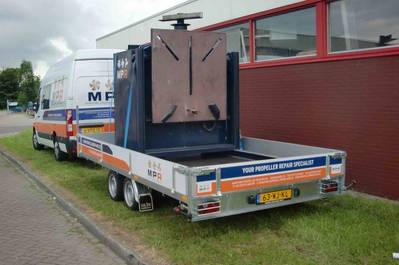 MPR BV in The Netherlands has developed new mobile measurement and balancing equipment for CPP blades up to 6,5 ton per blade.
With this equipment MPR can measure and balance blades to very high levels of accuracy anywhere within driving distance of The Netherlands (including, of course, the UK). Although this equipment has only recently been introduced, it has already been used at locations as far afield as Norway and southern Spain saving owners both time and money as blades no longer have to be transported long distances to a suitable workshop.

MPR continuously optimises equipment and is currently developing a compact air-freightable version of this measurement and balancing equipment so as to be able to offer this service on a world-wide basis in the near future.

MPR now has a unique capability which complements its road-transportable mobile balancing equipment for fixed pitched propellers enabling propellers up to 15 ton to be balanced and repaired.