Med Tier III Harbor Tug Powered by MAN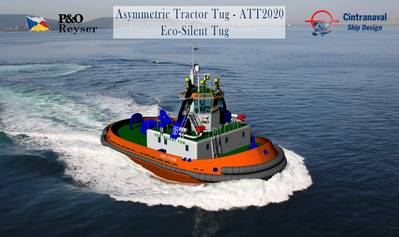 MAN Energy Solutions won the contract to supply the engines for a new harbor tug in Spain, unique in that it is reportedly the first IMO Tier III compliant tug operating in the Mediterranean.
P&O Reyser will operate the 27-m, 75T bollard-pull-rated Asymmetric Tractor Tug (ATT) in the Port of Barcelona, which is expected to enter service from mid-2020.
The tug will feature 2 × MAN 12V175D MM, IMO Tier III engines, each rated at 2,220 kWm. The engines will be connected to FPP azimuth thrusters for propulsion, whilst also providing power to support on-board towing and fire-fighting capabilities.
The engines, along with the associated SCR exhaust-gas emissions-after-treatment system, will be supplied to Drydocks World-Dubai shipyard, who are undertaking the vessel construction, direct from MAN Energy Solutions' new MAN 175D production facility, located in Frederikshavn, Denmark.
This will be the first IMO Tier III-compliant Harbor Tug for P&O Maritime, and also the first harbor tug for operation in the Mediterranean area complying with IMO Tier III, MARPOL Annex VI.
Cintranaval, a top Spanish ship design office, has also been a key player in this process.