British Navy to Deploy 3,000 to Mediterannean War Games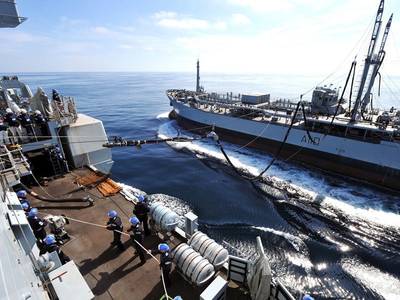 More than 3,000 sailors & Royal Marines are geared up for a three-month deployment to the Mediterranean.

'Cougar 12', which begins later this month, will see four warships, one amphibious support ship, a giant ro-ro ferry/transporter, three commando units and helicopters and personnel from eight Fleet Air Arm and Army Air Corps squadrons committed to the three-month deployment – in all more than 3,000 sailors, Royal Marines, soldiers and airmen.

They will take part in two large-scale exercises interspersed with various smaller exercises and training and goodwill visits – in some cases to places which rarely see the White Ensign.

The deployment will be the second test of the UK Response Force Task Group, formed under the 2010 defence review, which was called upon in anger last year to support operations off Libya: HMS Ocean launched repeated Apache gunships strikes from her flight deck.

'Corsican Lion' exercise, which takes up the second half of October, sees the Cougar force link up with France's flagship FS Charles de Gaulle – the most powerful surface ship in western European waters.

And in the nearer future, 'Corsican Lion' is the most important strand of Cougar and a major step along the road towards forging a fully-operational Anglo-French force by 2016.
Participants in the Cougar 12 deployment will be:
• HMS Bulwark 
• HMS Illustrious
• HMS Northumberland 
• HMS Montrose
• RFA Mounts Bay
• MV Hartland Point 
• Headquarters of 3 Commando Brigade 
• 45 Commando (currently the UK's on-call Royal Marines unit ready to respond to world events) 
• 30 Commando IX Group 
• 539 Assault Squadron Royal Marines 
• 814 Naval Air Squadron (Merlins) 
• 815 Naval Air Squadron (Lynx) 
• 829 Naval Air Squadron (Merlins) 
• 845 Naval Air Squadron (Commando-carrying Sea Kings) 
• 846 Naval Air Squadron (Commando-carrying Sea Kings) 
• 854 Naval Air Squadron (airborne surveillance and control Sea Kings) 
• 656 Squadron Army Air Corps (Apache gunships), and 
• 659 Squadron Army Air Corps (Lynx).