Hamburg Süd Eyes Ocean Three Membership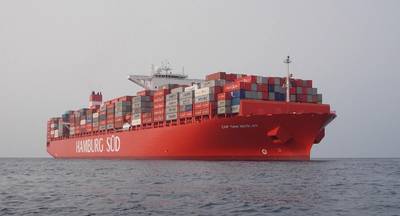 UK- based shipping consultants Drewry said that it was only a matter of time before these carriers make the formal announcement that Hamburg Süd is to become a fully-fledged member of Ocean Three, or Ocean Four as it will presumably have to be re-named.
Süd is teaming up with the Ocean Three alliance in a new service linking China with the US east coast via the Panama Canal as the German line moves closer to full membership of the collaboration, reports Lloyd's List.
The growing service cooperation
between Hamburg S
üd and the Ocean Three carriers CMA CGM, CSCL and UASC is towards this direction. Unlike the other global alliances, Ocean Three is a more flexible group that allows members to team up with other carriers where appropriate.
Hamburg Süd has already signed a global co-operation agreement with UASC that will give it access to the Pacific and Asia-
Europe trades
through slot charter arrangements. In return, UASC will have space on some of Hamburg Süd's South American trades.
The collaboration will make it easier for the two carriers to find a balance in a difficult market for container carriers, the companies explained. But reaching agreement on the collaboration - which in the case of UASC serves as a supplement to the carrier's membership of the new Ocean Three alliance with CMA CGM and CSCL (China Shipping Container Lines) - has been a long process.
Hamburg Süd also collaborates with CMA CGM in some trades.
CMA CGM group
Vice-Chairman Rodolphe Saadé said last month the Ocean Three group could accept more partners. "We are open, if we wish, to add more players to Ocean Three," he said.
Acknowledging that becoming the fourth member of the new alliance was still a sensitive issue and not under formal negotiation at this stage, Hamburg Süd's Executive Board Chairman Ottmar Gast said d in the long-run, it would "make sense" for Hamburg Süd to have "a higher share of the overall capacity" in the Asia-Europe trades if its initial foray works out.