Mercury Diesel Engines for 16 New USCG Boats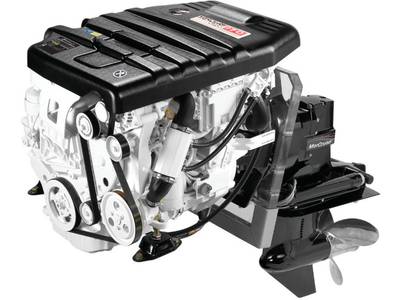 Mercury Marine has entered an agreement with Metal Shark Aluminum Boats to power 16
U.S. Coast Guard
(USCG) boats with Mercury diesel engines.
"Mercury Marine's 2.0 diesel engines are ideal for smaller vessels such as the Coast Guard Cutter Boat ATON Medium," said Greg Lambrecht, Metal Shark vice president. "These engines are compact, lightweight, and deliver a superb power to weight ratio for use in a wide range of small vessel applications."
"The U.S. diesel market is evolving and adapting and our marine customers are taking notice of the diesel advantage when it comes to performance and fuel economy," said Reinhard Burk, Mercury Marine Senior director of diesel & propulsion strategies. "A commercial application with a high profile customer such as USCG proves to the marketplace that our diesel offerings are in high demand."
The USCG's CB-ATON-M is based on Metal Shark's 18' Relentless, a welded aluminum center console vessel that features a urethane-sheathed foam collar for impact protection. The CB-ATON-Ms are carried aboard the USCG's coastal buoy tender fleet for at-sea and inshore operations or in port. The vessels primarily support Aids to Navigation efforts and are also used to support Search and Rescue; Maritime Law Enforcement; and Ports, Waterways and Coastal Security missions.
The recent agreement continues the relationship between Mercury Marine and Metal Shark. Metal Shark supplied the USCG with a 16 boat training fleet based on its 38 Defiant pilothouse model, each equipped with twin Mercury Marine 300hp Verado outboards. Mercury also supplies outboard power for the High Speed Maneuverable Surface Target (HSMST) vessels Metal Shark builds for the U.S. Navy under a 350-boat contract awarded in late 2013. Mercury outboards are the choice of many of Metal Shark's state and
local law enforcement
and commercial customers as well.
"We have enjoyed a long and successful relationship with Metal Shark on the outboard side and look to do the same with our diesel offerings," said Burk. "The performance of our lightweight, fuel efficient diesel engine backed by the long standing support of Mercury Marine is a perfect match for Metal Shark's rugged off-shore patrol vessels performed by government programs across the country."