Meridian Salmon Farms Vessel Launched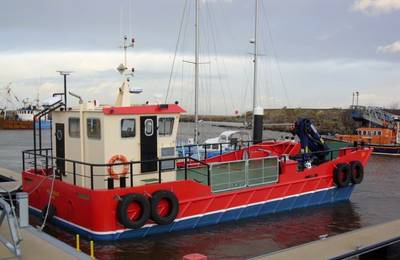 The latest vessel for Meridian Salmon Farms has been launched. Built in Girvan by Alexander Noble & Sons, Sea Chelle is powered by twin L136 Doosan engines supplied by WaterMota, the sixth vessel owned and operated by Meridian Salmon Farms to be fitted with Doosan engines.

The landing craft Sea Chelle has been built to work in the Scapa Flow area of Orkney, designed as a general site boat for the salmon cages for tasks including feeding and assisting with net changing with feed distributed to the salmon sites via multiple boat trips.

Measuring 14.95m x 5.7m, with a displacement when fully loaded of 62 metric tons and a draft of 1.1m, Sea Chelle is the sister to Mauy which was built in 2002.

With a top speed of almost 9 knots achieved in sea trials, Sea Chelle will have a general working speed of 7 knots and will also be able to operate at slow or idle speeds for long periods of time.

Capable of carrying 26 metric tons of feed, Sea Chelle has a 3.5 metric ton fuel and half a ton water capacity. She is also fitted with a 3 metric ton capstan PK 11001 crane and a 1 metric ton cyclone feed blower for putting feed into the cages.

As with all the vessels in the Meridian Salmon Farm fleet, Sea Chelle is registered for use in category three waters – up to 20 miles from a safe haven – and will usually be operated by a crew of two.

Meridian Salmon Farms currently employs 92 people in Orkney and operates 16 sites around the islands with two at Scapa Flow.

Other vessels operated by the group fitted with Doosan engines include Mauy, re-engined with twin L136T units, Salmain, re-engined with twin L136T units, Annalie re-engined with twin L136TI engines, Emma fitted with twin L086TIH units and Amelia re-engined with twin L136TI units.

The Doosan L136 is a heavy duty naturally aspirated six cylinder model with an output of 118kW (160bhp) at 2,200rpm and a displacement of 8 liters.