IHC Merwede Rents Out First IHC Beaver Dredger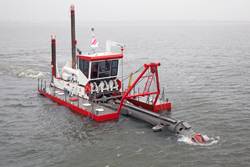 IHC Merwede has entered the international rental market with its standard IHC Beaver dredgers and DMC work boats. The company has identified a demand in the market for vessels and equipment that may only be used for a relatively short period of time.

In August, the first dredger – an IHC Beaver® 40 – was rented out to a contractor in Europe. The dredger was easily loaded on to trucks and transported to the dredging site, where it was quickly deployed by a team of IHC Merwede engineers. This vessel will be used for the deepening of a river in order to increase its capacity.

Specific demands

The nature of some dredging projects requires the deployment of specific dredgers for a limited time frame. This could be because the dredging project itself is relatively small or an additional dredger is only required at a particular point in the project. In such cases, the expansion of the dredging fleet on a temporary basis through IHC Merwede's rental service is an attractive option. IHC Merwede can also deliver the training and technical support to start up a dredging operation as efficiently and effectively as possible.

Long-lasting rental experience

IHC Merwede is already using the rental formula in other market segments, such as the offshore wind sector. The majority of successfully installed offshore wind farms have used equipment rented from two of IHC Merwede's business units – IHC Hydrohammer® and IHC Handling Systems, who are both leading companies within this market. IHC Hydrohammer® has been renting out hammers for more than 25 years, while IHC Handling Systems has been active in the rental of handling equipment since 2001 and has recently doubled its rental fleet of larger handling equipment.

In addition, other IHC Merwede business units have been proactively developing their rental services: IHC Sea Steel rents Fast Frames which can be used for driving 20-96" diameter piles in water depths of up to 2,000m; and IHC Fundex Equipment has been focussing on the enormous growth potential of its foundation machines in the American replacement market. With the first successful rental of an IHC Beaver® dredger, IHC Merwede has reached a notable landmark in its long and distinguished history. The company has once again demonstrated that it possesses the in-house skills to engineer and manufacture sustainable dredging vessels that suit the specific requirements of a new customer segment.

IHC Merwede has also shown its capability to supply efficient and reliable solutions to meet the shortest possible lead times. The latest generation of IHC Beaver® dredgers are known for their robust construction, unbeatable economies of scale and lower operating costs, with the reliability and ease of use to allow operation in all conditions. For more information, please visit www.rentadredger.com