Metal Shark to Showcase New Products in New Orleans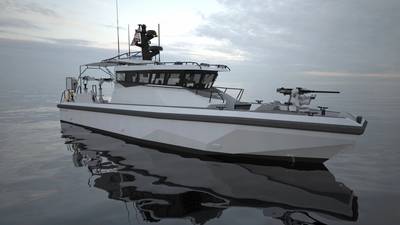 Shipbuilder Metal Shark will be showcasing an array of new products and technology at this year's International Workboat Show in New Orleans.
Perhaps most notably, Metal Shark has selected this year's Workboat Show to give the public it's first look at the U.S. Navy's newest patrol boat, the imposing "40 PB."
"In 2016, the Navy's PBX Industry Day was one of most talked-about events of the Workboat Show," said Stickles. "At last year's show, the award of the contract to Metal Shark following the Navy's multi-year selection process had just been announced, and now a year later we will be showing off Hull 001, the first result of this significant contract. This will be the first public showing of our new, next-generation Defiant X patrol boat platform, which represents the latest evolution of our popular and proven monohull pilothouse series of vessels."
On the technology front, Metal Shark is bringing a new 32-foot Defiant pilothouse vessel equipped with "Sharktech" autonomous technology developed in concert with autonomous technology developer L3 ASV.
"We sparked a tremendous amount of interest in our autonomous capabilities with the July debut of our Sharktech-equipped 38-foot Defiant at MACC in Baltimore," said Stickles. "This is a different boat with those same advanced capabilities, but to make it even more noteworthy we've equipped it with a new propulsion system we are excited to help bring to market."
Metal Shark has partnered with Cox Powertrain to bring the world's highest-powered diesel outboard to military, government, and commercial markets.
Delivering 300 horsepower at the propeller, the CXO300 is the world's highest power density diesel outboard engine and is set to revolutionize global markets. The four stroke V8 diesel CXO300 offers up to 25% more range compared to gasoline outboards and is designed to last up to three times longer. The engine combines the simplicity and economy of an outboard installation with greatly improved safety and reliability achieved by eliminating the need for highly volatile gasoline.
Metal Shark will be at the Morial Convention Center in New Orleans. The 2018 International Workboat Show runs from November 28th-30th, 2018.