Meyer Turku Cuts Steel for New Carnival Cruise Ship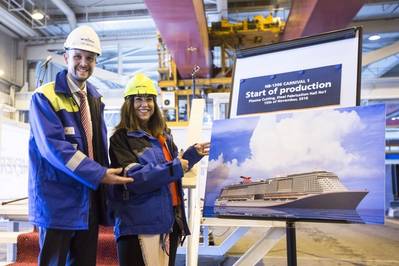 The cruise ship builder Meyer Turku started the production of a 5,286-lower berth cruise ship for Carnival Cruise Line.
According to German shipbuilder, the ship will be the first North American-based cruise ship to run on iquefied natural gas (LNG) and will also be the largest Carnival cruise ship ever built with 180,000 gross tonnage (GT).
With the first steel cutting the physical form of the ship will start to takeshape. The new Carnival ship will offer a variety never-before-seen innovations and will be part of Carnival Corporation's "green cruising" design platform.
"This new ship promises to be truly special, from its ground-breaking one-of-a-kind features to a distinctive hull painting and hull design that is both timeless and forward-thinking while paying tribute to our nearly 50-year history of making wonderful vacation memories for our guests," said Christine Duffy, president of Carnival Cruise Line.
Production ramp-up is moving forward at Meyer Turku shipyard with this large, state-of-the-art cruise ship. Meyer Turku's production is already at the level of previous all-time high and more than doubled from 2014 when Meyer family bought the shipyard.
"We are extremely pleased to work together with Carnival on this large and highly innovative ship. With the first steel cutting, our efforts in designing the hull, features and interior of the ship start to take shape. We are also very proud to build the first-ever LNG using cruise ship for North American market, making this state-of-the-art green technology a reality," commented Jan Meyer, CEO of Meyer Turku.
To enable the ramp-up of production, Meyer Turku has hired more than 700 new shipbuilders since 2014 and recruitments are continuing with a pace of approximately 200 people each year.
Meyer Turku has been also investing heavily, with largest investments, a large part of 200 million investment program going to the steel factory. The shipyard's steel halls will have a new plate cutting line, a new profile cutting line and a new panel line, all under final stages of construction at the moment.
Carnival XL1 will be built on new green cruising platform for Carnival, yet it will feature completely newly designed interior spaces that Meyer Turku interior design team is working together with Carnival designers.
The as-yet-unnamed Carnival cruises ship will operate from Florida beginning in 2020. The ship's name is scheduled to be revealed in early December. Details on the ship's inaugural season are planned to be announced in January, with information on the vessel's vast array of exciting culinary, beverage and entertainment options to be revealed later in 2019. A second XL class ship is scheduled for delivery in 2022.