Meyer Werft Lays Keel for Second Silversea Fuel Cell Cruise Ship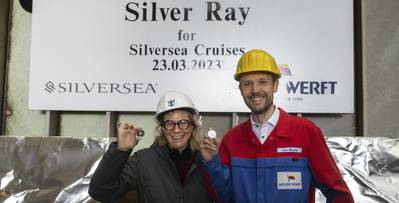 Silversea Cruises has celebrated the keel laying of the cruise ship Silver Ray at the Meyer Werft shipyard in Papenburg, Germany.
The 155-foot, 728-guest Silver Ray is the second ship in Silversea's Nova class and is expected to enter service in summer 2024, following sister ship Silver Nova which is expected to enter service in summer 2023.
The Nova-class ships will be fitted with dual-fuel LNG engines, energy storage and a 4MW fuel cell system. The system is the result of a research project involving Freudenberg e-Power Systems, Meyer Werft and Royal Caribbean Group and is intended to cover the full hotel load of the ship and allow for zero local emissions in port.
The vessels are expected to achieve a 40% overall reduction in greenhouse gas emissions per double suite when compared to Silversea's previous class of ships, the Muse class. In addition, the ship class is projected to achieve an Energy Efficiency Design Index (EEDI) rating of approximately 25% better than applicable IMO requirements. The ships will also include a micro auto gasification system, which reduces onboard waste volume, resulting in lower incineration emissions.
Barbara Muckermann, President and CEO, Silversea Cruises, described the vessels as two of the most sustainable cruise ships ever launched and important milestones on Royal Caribbean Group's journey to achieving a net zero newbuild.
In another first for Silversea, both Nova class ships will incorporate an innovative asymmetrical design and a horizontal layout, with public spaces and suites spanning the entire length of each ship.