Milaha Wins Award for Contributions to Qatari Economy's Resilience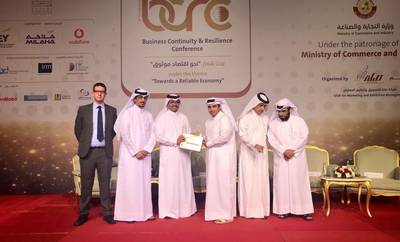 Milaha, a Qatar-based shipping and logistics conglomerate, participated in the 2nd Business Continuity and Resilience Conference, which was held in Doha on November 20th, under the patronage of H.E. Minister of Commerce and Industry Ali bin Ahmed al Kuwari and attended by business continuity, risk management and organizational resilience professionals from all sectors.
Milaha's PCEO Mr. Abdulrahman Essa Al-Mannai headed the company's delegation to the conference where he delivered a presentation, showcasing the latest upgrades in Milaha's operations and services, and the company's contribution to the overall resilience of the Qatari economy. In his presentation, Mr. Al-Mannai highlighted some of Milaha's success stories since the beginning of the blockade, notably, connecting Qatari cargo to international liner networks and supporting Qatar's food supply chain connectivity.
Mr. Al-Mannai also received the Business Continuity Institute's "Award for the Continuity and Resilience Provider" category, which was judged by a UK-based panel of independent international experts in further recognition of Milaha's role in ensuring continuity of business in Qatar.