Milestone Tankship Refit at Portugal's Lisnave Shipyard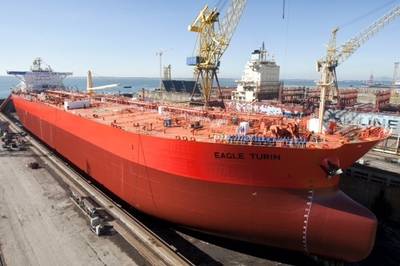 The 107,123 dwt 'Eagle Turin', owned by AET is the 100th tankship refit project to be handled at Lisnave.
This milestone in today's highly competitive ship refit market, has been achieved over a period of 15 years, it being the second time that this particular tanker has visited Lisnave for general refits.
The first tanker refit project from AET was received by Lisnave during 1998 – the 102,352 dwt Eagle Auriga arriving in March of that year. At that time the attending superintendent from AET was Mr. Aw Chin Meng who, on average, has been once a year since 1998. A total of 38 different superintendents have attended ships in Lisnave during the 15 year period, but Mr Aw has been the most regular.
A total of 38 individual vessels make up the 100 contracts - two vessels have drydocked 5 times; 11 vessels (4); 7 vessels (3) and this will be the second time for the Eagle Turin. The spread of refit projects over the 15 years has been steady since 1998, one vessel in 1999 then 2000 (2), 2001 (4), 2002 (6), 2003 (6), 2004 (9), 2005 (6), 2006 (6), 2007 (10, 2008 (11), 2009 (12), 2010 (7), 2011 (11) and 2012 (7). The single largest refit contract involved the 107,123 dwt Eagle Tampa during 2004, which underwent some 800 tonnes of steel renewal to her hull.

Frederico J Spranger, Lisnave Chief Executive Officer expressed "It has been a privilege to serve AET over the past 15 years with 100 refit projects now completed. Here at Lisnave we pride ourselves on the high percentage of 'repeat' business we get from traditional owners/managers - we offer quality and timely redeliveries and therefore such owners are willing to send further contracts to us. The prime example of this is AET."