The Hann 50 Military / Patrol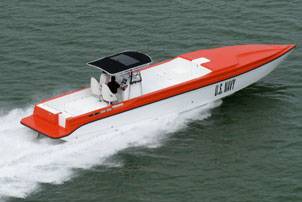 Hann Powerboats offers the Hann 50 as a fast interceptor, offshore/ inshore patrol boat, or fast attack craft. Attention to engineering details and balance allows Hann Powerboats to build a powerful boat, serving many missions, but achieving vital operational efficiency. All Hann Powerboats are on the GSA Schedule and available to local, state, and federal government agencies.
The standard configuration of Yanmar 480 HP Diesel motors coupled to Arneson Surface Drives yields a 50 knot cruise speed while only burning 35 gallons of diesel per hour. Top end is 56 - 58 knots while only burning 46 GPH. With the standard fuel capacity of 300 gallons, this efficiency allows for a range of more than 400 nautical miles (460 miles) at 50 knots. The Hann 50 is available as either an open patrol boat or with a pilothouse for additional protection of crew and passengers. Hann delivered four Hann 50s in the 2010 model year to the
United States Navy
for use as Fast Attack Craft Target Boats. The low profile provides for a low radar signature while the 50 ft. offshore proven deep V hull delivers a ride that reduces fatigue and mitigates shock like only 50 ft. of hull can.
The Hann 50 Quad Outboard, introduced and delivered in late 2010, utilizies the same 50 ft. hull, but uses four 300 HP outboards for power. Under normal load the Hann 50 Quad Outboard topped 70 mph. Powered by just two motors, the vessel topped 45 MPH with the other two motors tilted up and along for the ride! The hull length and carefully designed COG allow for quick planning and acceleration, critical for successful interdiction, search, and rescue.
Hann Powerboats also builds a GSA Scheduled, Hann 18, which has been most recently purchased for use as an undercover patrol/enforcement boat by a Federal Agency.
Specifications: Hann 50
Draft with drives down
28 inches
Draft with drives up
17 inches
Recommended power
315 Triple Yanmar Turbo Diesels
Cruise (fuel) at 45-50 mph
1.6 to 2.0 mpg
Max cruising range
432 miles at 90% capacity