UK Shadow Energy Minister Visits Centrica, Bibby Offshore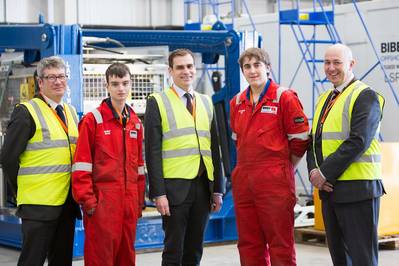 Integrated energy company Centrica Energy and Bibby Offshore, an oil and gas industry subsea services provider, today hosted Tom Greatrex MP, the UK's Shadow Energy Minister, as part of an oil and gas industry fact-finding initiative.
Greatrex, the MP for Rutherglen and Hamilton West, visited Centrica's Aberdeen offices to gather information about the company's new and existing developments on the UK Continental Shelf. Greatrex was given an update on the £1.5 billion Cygnus project, which is creating nearly 5,000 jobs in the UK supply chain, as well as the company's major assets like Morecambe, which produces enough gas for 1.5 million homes daily. Greatrex also met with some of the teams working across Centrica's UK operations, including geologists, engineers and HSE experts.
Greatrex also toured The Hangar, Bibby Offshore's 50,000 ft² state-of-the-art workshop and warehouse facility in Westhill. Greatrex learnt about Bibby Offshore's capabilities and development while meeting two of the company's young ROV apprentices, Alexander Tice, 17, and Edward Beattie, 19.
"Visiting both Centrica Energy and Bibby Offshore provided a great insight as to how companies work together from both the operator and supply chain perspective," said Greatrex. "It's fantastic to see such positive and successful collaborative work within the industry, and the wealth of skilled and dedicated people that work within it."
"Political engagement is vital for the continued investment in and the development of the energy industry," said David Sheret, General Manager, Global Business Development at Bibby Offshore. "We were delighted to demonstrate Bibby Offshore's innovative and important work, and to discuss with Mr. Greatrex the challenges and opportunities facing the sector."