MISC Secures ExxonMobil LNG Tanker Contract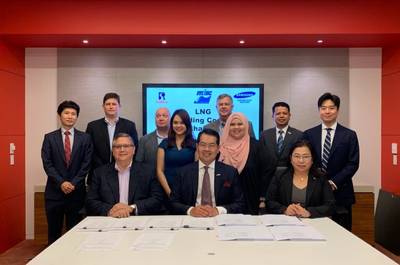 MISC Berhad (MISC) through its wholly-owned subsidiaries have secured agreements with Exxon Mobil Corporation's wholly-owned subsidiary, SeaRiver Maritime LLC (SeaRiver) for the time charter contracts of two Liquefied Natural Gas (LNG) carriers.
Each of the LNG carriers will respectively serve the transportation needs of ExxonMobil's worldwide LNG portfolio on a 15-year charter contract.
Prior to this, MISC, through the same subsidiaries have also signed an agreement with Samsung Heavy Industries Co., Ltd. (SHI) for the construction of the LNG carriers in Korea. The vessels will have a capacity of 174,000 cubic meters (cbm) and will feature state-of-the-art technologies including modern XDF propulsion, Mark III Flex Plus containment system and full re-liquefaction facility for higher efficiencies and to meet the demand for worldwide trading and long-haul voyages. The LNG carriers are expected to be delivered in the first quarter of 2023.
During the signing of the agreements in Houston, MISC was represented by its Vice President of LNG Business, Mr. Zahid Osman while SeaRiver was represented by its Vice President Global Marine Commercial & Planning, Mr. Doug Grote.
MISC is currently one of the largest single owner-operators of LNG tankers in the world with more than three decades of distinguished reputation for overall operational excellence, reliability, safety and on-time cargo deliveries. At present, its LNG fleet consists of 29 LNG carriers and two FSUs with a combined deadweight tonnage (dwt) capacity of over 2 million dwt.