IHC Offshore Nets Noise Mitigation Contract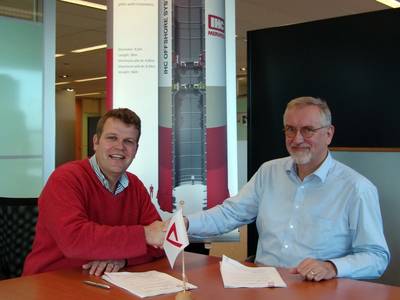 IHC Offshore Systems provides world's biggest Noise Mitigation System to protect sea life.

IHC Offshore Systems, part of IHC Merwede, is proud to announce it has been awarded a rental contract for the Noise Mitigation System NMS-6900. Dutch offshore contractor Seaway Heavy Lifting will operate the NMS-6900 during the installation of 30 monopile foundations for the Riffgat offshore wind farm off the north-west coast of Germany. The contract has been signed by Mr W van der Velde, Chief Technical Officer of Seaway Heavy Lifting, and Mr AA Kromhout,
Managing Director of IHC Offshore Systems.

The NMS-6900 is a useful addition to the large existing rental fleet of IHC Merwede's Hydrohammers®, handling tools and piling templates, which have been serving offshore installation contractors for many years. The contract includes site assistance throughout the whole project – IHC Offshore Systems service engineers will monitor all functions and support with the operation of the system. By June 2012 the NMS-6900 will be operational on location in the North Sea.

Noise Mitigation System

The purpose of the NMS-6900 is to reduce noise caused by offshore pile-driving activities carried out in the oil and gas and renewable energy sectors. Advanced technology developed within the IHC Merwede group reduces the negative effects of such noise on sea life.

The system consists of a double-wall steel screen capable of resisting harsh offshore conditions such as current and wave impact. A special guiding system has been incorporated to keep the monopile and NMS-6900 concentric. Variable glide pads enable safe guidance for a range of both straight and tapered pile sizes. Furthermore, an advanced multi-level bubble injector system has been installed, providing an additional noise barrier. A mud-mat flange at the bottom of the screen assures stable and safe positioning of the NMS-6900 on the seabed.

Next level of continuous development

Today's NMS-6900 design is based on an extensive range of research and testing programmes, which include the following:

noise measurements at Egmond aan Zee wind farm – The Netherlands

IHC Yard basin – The Netherlands

IHC Yard River de Noord – The Netherlands

ESRa Baltic Sea – Germany

FLOW project – The Netherlands/Germany

During its first commercial contract, IHC Offshore Systems will monitor the NMS-6900 continuously to gain information required to further reduce noise levels. This not only contributes to a healthier sea life, but also paves the way for contractors to comply with noise level limits set by governments for the installation of many offshore wind farms planned up to 2020.

Delivery of an IHC Hydrohammer S1800

For the same project, IHC Hydrohammer, also part of IHC Merwede, has been awarded the contract for the provision of an S1800 hammer to carry out piling. The IHC Hydrohammer® S1800 – in conjunction with the NMS-6900 – enables installation contractor Seaway Heavy Lifting to drive the piles with much less noise.