New Dredge Monitoring System for UKD Bluefin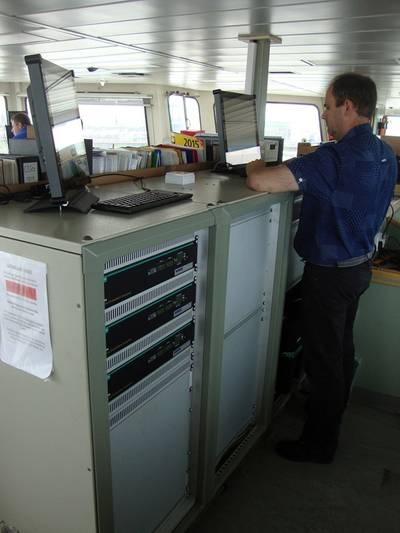 Customized configuration of Damen Dredging Instrumentation during scheduled docking
The UKD Bluefin has undergone a complete refit of the Dredge Monitoring System in which Damen delivered all required software and hardware for trailing pipe and loading process monitoring, making use of the existing sensors on board. The refit was done within two weeks during a scheduled docking resulting in zero downtime.
As the Damen Dredging Instrumentation system allows full customization, extensive talks with the UKD Bluefin's crew have resulted in a new configuration exactly fitting the UKD Bluefin requirements. The new system allows monitoring on both bridge wings of both trailing suction pipes in horizontal and vertical angles, each on one screen. On another screen the loading process is monitored, including a full overview of the TSHDs draught as well as the 'Tons Dry Solids (TDS) load line'. At the navigation desk, two more screens have been mounted for the same purposes. The system allows the various screens to show different pages simultaneously. Moreover a Data Logging and Reporting module plus remote access from the shore-based office have been installed.
All refitting has been done during a scheduled docking at Middlebrough, U.K. As the Damen system is capable of making use of existing sensors, the refit was a straightforward one. Within two weeks all Damen software and hardware were up and running. All signals from the existing sensors, such as the trailing pipe's angle sensors, the draught sensors and the concentration and velocity meters, were checked and fed into the new system. The entire refit has been executed in zero downtime.