HMI Monitoring and Control - Building Blocks of a SCADA System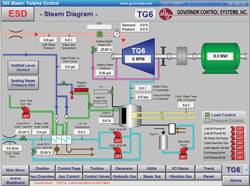 User interface is the most visible system component when it comes to equipment operation. From the steering wheel and instrument cluster on your vehicle's dashboard to the most complex industrial control system, the purpose is the same; it must allow human interface into a system. The interface must provide the user a means to control the equipment, provide feedback from the equipment to show operational conditions and alert us when something is wrong. And it should do these things efficiently, be easy to use, and visually and ergonomically pleasing. These concepts are the same in the case of industrial or commercial control systems, but the interface can be controlling a complex system or series of systems behind it.
There are many different terms for an interface into an industrial control system; however Human-Machine Interface (HMI) is the most widely used. HMI is most often defined as a system that provides a window into the operation of a single machine or simple network of multiple machines in a common control system.
HMI Hardware and Software
Today's HMI systems offer advanced hardware platforms with powerful software development suites to allow an engineer to create an interface completely customized to meet any system requirements. Modern HMI hardware can combine a touch screen interface with a fan-less cooling system, and integrated Windows-based operating system. Since the hardware is designed for installation in switchgear panels or other industrial environments often high in temperature and vibration, flash memory is utilized to eliminate the moving parts in a traditional hard drive, which improves robustness. The software suite provides an environment to create a customized series of screens for your application to allow simple control of the machine or system, display current and historical information, and alarm handling. In addition, more complex operations can be integrated such as data acquisition and graphical trending. Windows based operating systems easily interface to external programs such as Excel, which allows data to be manipulated for additional formatting and charting.
Remote Access
One of the most useful features of an HMI system is remote access via the Internet. This functionality allows an operator or plant manager to access the system from most computers with an Internet connection. Remote accessibility provides a convenient way to troubleshoot or control the system without maintaining full-time operator personnel - reducing cost, man-hours and, often, response time to a problem. Furthermore, with modern HMI systems, it may not even be necessary for any operator, regardless of location, to actively monitor the system. In the event of a warning or alarm condition, most systems can be set up to send an automatic e-mail or even a phone message via text to operations personnel.
An HMI can provide a window into one specific machine or local system, however many operations require greater capability for their facilities. HMI systems are usually building blocks in Supervisory Control and Data Acquisition (SCADA) systems: a higher-level system that incorporates multiple processes into one integrated package controlling and monitoring remote systems from a central location. Plant electrical systems can be monitored and controlled from the same interface as mechanical processes, fire systems, water and wastewater treatment, communications and alarm systems, HVAC and more.
SCADA Systems
Much has changed in the HMI/SCADA industry since the first systems began entering the market in the 1970s. We have come a long way from the days of individual Remote Terminal Units (RTUs), computer systems with bulky communication infrastructure and inefficient software interfaces. With developments in electronics design and communication protocols, today's systems are smaller, faster, more efficient, more configurable and scalable than ever. Smaller SCADA systems may consist of a single HMI, while larger systems can incorporate multiple HMIs, distributed I/O, and redundant communications networks with multiple controls or PLCs.
Monitoring and control are the functions of the SCADA system with individual processes under the control of a local system. In a power generation facility, for example, an engine or turbine control performs most functions, i.e. maintaining the speed of the prime mover or maintaining a process like air-fuel ratio or steam header pressure control. A generator control will maintain a base load power output or share the plant electrical load among multiple generators.
The SCADA system provides the operator with the interface through which a desired set point can be entered like a base load or process reference. These set points are then transferred to the local machine controls that perform the desired function. The SCADA system provides detailed information such as valve and circuit breaker positions, power flows, alarm conditions, and many other parameters, most of which can be used in graphical trending and historical data logging. The operator uses this information to determine if any changes need to be made, based on the operating conditions for the overall plant. The system also providing the user interface through which those changes are made.
The speed and efficiency at which this data is transferred has greatly improved with developments and standardization of communication protocols. Most hardware manufacturers now use open and non-proprietary protocols such as Modbus or OPC to enable system designers to easily integrate multiple controls or hardware platforms. Ethernet has become a widely used network for the interface between controls and HMI/SCADA systems, as many protocols that were originally developed for serial communications have been adapted for TCP/IP.
Expanding the System
Today's HMI and SCADA systems are now more affordable as well. Smaller companies and organizations can take advantage of the convenience these systems provide. If a project calls for the construction of a new facility with new communications infrastructure, it would be the ideal time to consider implementing a SCADA system. However, with the hardware and software available on the market today, systems have become more expandable than in the past. Organizations that do not have SCADA systems in their facilities or that have very simple small HMIs and are looking to either upgrade or expand their system have many implementation options. Some organizations choose to install single or multiple HMIs monitoring a dedicated machine or a single system in the facility.
Others choose to implement a simple master station in a remote control room at first and add to the system over time.
Control system integrators, such as Governor Control Systems, Inc. who offer HMI and SCADA systems as part of their product and service offering have experience in many applications across multiple industries. These companies develop a library of standard screens that can be applied to new projects. While every project and site is different and will require some custom work to be done, much of the development time is eliminated through the reuse of screens and concepts from past development. Taking advantage of this type of experience can not only result in a better system, but also eliminate some of the costs associated with installing and commissioning a SCADA system.
Regardless of your industry, the benefits of SCADA systems are many. As with any investment, there must be a return. The savings that come from operating more efficiently will quickly offset the initial cost of installing a SCADA system.
With the advancements in modern HMI and SCADA technology, your possibilities are endless, only dependent on your budget and imagination.
About the Author
Jim Martz (Jim.Martz@govconsys.com)is an Applications Engineer for Governor Control Systems, Inc. Jim has engine control systems design experience with Caterpillar, Inc. and engine and power management systems experience with Woodward Governor Company. GCS offers comprehensive control system support, from engine and turbine systems integration to turnkey project management for a broad range of marine, power generation and industrial projects.