Sea Star Line Enhances 'Fridge Cargo Monitoring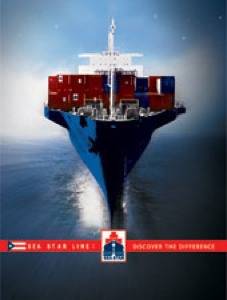 Sea Star Line, LLC announce that its refrigerated cargo monitoring service, StarGuard Elite Service, has been enhanced to provide refrigerated cargo shippers, especially pharmaceutical companies, full visibility of the refrigerated container's progress, 24/7.
Customers can now manage and monitor their refrigerated containers directly in real-time from any Internet-connected personal computer, tablet or mobile device.
StarGuard Elite Service provides immediate up-to-date access to the trip progress and confirm that temperatures, as well as, onboard and environmental conditions were met throughout the entire voyage, land or sea, anywhere in North America. The new technology gives Sea Star Line wireless monitoring capacities on 100% of its refrigerated container fleet, marine terminals and vessels. This milestone has been achieved through the use of Mark-It Services' WAM-R, advanced wireless device, which is mounted on every refrigerated container in the StarGuard Elite Service.
Utilizing the latest in GPS, cellular and industrial-processing hardware, the sophisticated interface capability gives remote operators direct access to the state of the machinery, whether it is plugged/unplugged, powered/without power, if any alarms exist and the full range of temperature readings including set, supply, return and ambient temperatures.

For the first time, pharmaceutical customers can consider ground shipping versus airfreight for their reefer containers. They can now monitor the fragile shipments and be guaranteed that the products inside the reefer were controlled continuously. All of this at a considerably lower cost than air transit.

www.SeaStarLine.com