Matson Monitors Cylinder Liner Wear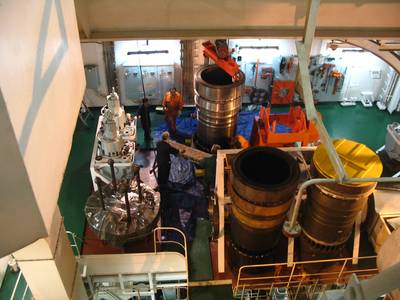 The cylinder liner is a crucial part of a ship's engine, as monitoring wear not only extends operational life but also prevents unexpected and costly repairs, with the average cost for a replacement liner at over $150,000. Matson has installed Parker Kittiwake's LinerSCAN onto several of its vessels as part of a range of condition monitoring tools. Payback proved immediate, as on the first voyage after installation, the LinerSCAN system indicated increased wear on the cylinder liners. Upon investigation, Matson detected damaging levels of cat fines in the system on one of its vessels, identified the cause of the issue and addressed the problem before damage occurred.

Monitoring Wear
Matson purchased five LinerSCAN system in January 2014, with the first installation made on Manukai in March, the second on R.J. Pfeiffer in May and the third on Maunalei in August, with the remaining two installations to follow. The LinerSCAN system can be used to minimize liner wear, improve maintenance scheduling, decrease sampling and testing costs, optimize lubricant feed rate and detect the result of the ingress of catalyst fines. Using magnetometry to quantify the iron in used cylinder oil, the LinerSCAN sensors report changes caused by abrasive wear and even routine inspection, highlighting periods of increased physical or thermal stress. By monitoring wear levels in real time, engineers are alerted to escalating cylinder liner damage and are able to react quickly to changes, enabling preventative maintenance during the ship's passage to the next port and insuring against expensive downtime.
On the R.J. Pfieffer's first voyage following installation of LinerSCAN, high levels of wear were reported in the used cylinder oil following a fuel switch from Marine Gas Oil (MGO) to Heavy Fuel Oil (HFO), suggesting the presence of cat fines in the fuel. Upon inspection, it was discovered that a fuel filter had been incorrectly installed in the main fuel line. Filters are installed as a precautionary measure in addition to the purification system, and in this instance Matson had instigated the installation specifically to prevent damage. LinerSCAN was able to detect the increased level of wear in the cylinders due to cat fines, resulting from the filter not performing correctly.
Given that LinerSCAN is a fully automated online tool enabling "real time" monitoring, it offers benefits compared to offline devices. "There is a clear benefit in knowing what is going on at an exact point in time - not just when the engineer can get to a machine for a routine, scheduled sample and analysis," said Gene Myers, M&R manager, Matson. "By monitoring the scrape down oil for ferrous wear, LinerSCAN can continuously and automatically provide complete sets of trend data showing levels of wear in each cylinder, enabling immediate corrective action to be taken if abnormal wear levels are indicated. This allows the application of corrective measures to avoid the damage of the liner, including checking the fuel cleaning system, increase in feed rate of cylinder lubrication oil, preventative maintenance during the ships passage to the next port or even a route change if necessary, and ultimately insures against costly ship downtime.
(As published in the May 2015 edition of Maritime Reporter & Engineering News - http://magazines.marinelink.com/Magazines/MaritimeReporter)