Soucie Takes Command of MSCEURAF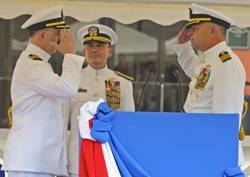 In a recent ceremony at Naval Support Activity Capodichino in Naples, Italy, Capt. Richard Soucie assumed command from Capt. James E. Tranoris of Military Sealift Command Europe and Africa (MSCEURAF), MSC's Naples-based office. MSCEURAF is responsible for MSC ships operating in the European and African theaters and is dual-hatted as Commander, Task Force 63, coordinating and providing transportation and delivery of personnel, equipment, fuel, supplies, repair parts, mail and ammunition via air and surface logistics assets to sustain U.S. forces in the European and African theaters. Soucie reports to MSCEURAF from his most recent duty as director of the Plans and Policy Division in the manpower and personnel directorate at U.S. Central Command Headquarters in Tampa, FL.

"The opportunity to command comes rarely in a career. I am truly honored and humbled to have been selected for major command and to have the opportunity to assume command of such a great organization," said Soucie.

Soucie enlisted in the Navy in 1978 and was subsequently selected into the Limited Duty Officer Program in May 1988 as a surface operations officer. He served aboard aircraft carriers USS Forrestal and USS John F. Kennedy and on the staffs of Commander, Carrier Group Two and Commander, Cruiser-Destroyer Group Two.