Multihull 'Cruising Boat of the Year': Leopard 48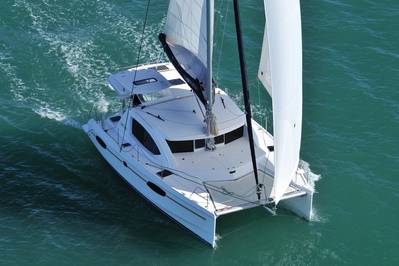 Leopard 48 voted 'Boat Of The Year' in the multi-hull category by Cruising World Magazine.

The Leopard 48 wins Cruising World Magazine's sought after title of Boat of the Year 2013 in the Best Full-Size Multihull category! This award recognizes the top new sailboats making their debut in the North American market. This year, 24 sailboats in 7 different categories were nominated to receive this prestigious honor. This marks the 5th Boat of the Year award for Leopard Catamarans.
The Leopard 48 features Robertson and Caine's latest developments. Her classic Leopard lines are easily recognizable in her sleek profile. This yacht features a raised helm station with panoramic views, versatile indoor and outdoor living space including a forward cockpit, and a 3 or 4 cabin layout option. The 48's fine quality, focus on comfort and superb blue water performance lived up to the extensive dockside inspections and sea trials by the judges.

The Leopard 48's beauty and ability were not the only things that caught the judges' attention. When discussing the Leopard 48, Judge Ed Sherman said, "As far as the service access is concerned, I can't recall being on a boat where they'd actually engineered the ease of access to all the systems as nicely as this one."
The judges also looked very closely at the 48's sailing performance. Leopard takes great pride in producing yachts with great blue water performance and capabilities, and the Leopard 48 lives up to these standards. Sherman explained "It was one of the quietest boats we tested. To me, that's indicative of the overall quality of construction, because they thought about the things that would reduce vibration and rattles and addressed them accordingly."
In addition to private ownership through Leopard Catamarans the Leopard 48 is also available for ownership through The Moorings Yacht Ownership Program as a Moorings 4800 (4 cabin charter layout).