Extra-long Outreach Seismic Multipurpose Davits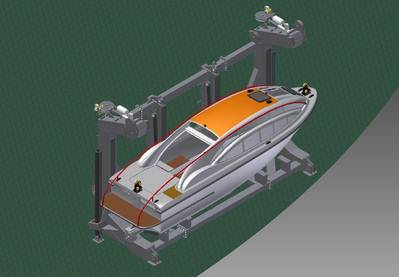 Norway-based boat handling system and specialised davit supplier Vestdavit has been contracted by Mitsubishi Heavy Industry on behalf of Petroleum Geo-Services (PGS) to design and supply extra-long outreach workboat/lifeboat/FRC davits for PGS's 5th generation Ramform new building seismic vessels.
The two davits for each of the two vessels building at Mitsubishi Heavy Industry, Japan for 2013 delivery will have an extra-long outswing to be capable of launching and recovering 20 man tender boats safely in seas states 5 – 6. Vestdavit has designed a special Vestdavit H – 10000S dual point hydraulic davit with a dual winch system for the application. Atle Kalve, development manager, Vestdavit, says, "These davits will make deployment and retrieval safer for PGS' crews. The tender boats will normally be used in relatively calm sea states, but are constructed to handle safely even in sea state 6, and these davits will recover them safely in those seas." The boats and davits also have the function as lifeboats and Fast Rescue Craft in an emergency.
A key benefit of these davits is the simplicity of use, which reduces crew training needs. They are also extremely robust and will work a long time on station without servicing. The characteristic Ramform design seismic survey vessel has only a short flat parallel ship side for the boat to lie against. To overcome this Vestdavit will supply a painter boom travelling 12 metres, the longest ever supplied by Vestdavit. Both boom and davits are computer controlled with inbuilt auto tension and shock absorption to allow the boat to launch and recover safely in high seas. Kalve says, "These boats will be used daily at sea for personnel and crew changes and supply between the support vessel and the seismic vessel which will continue working. The seismic work boats which would normally be used for this sort of application do not have the capacity for 20 men. The combination boat on the Vestdavit davits can work as a Fast Rescue Craft with six crew, as a tender with 20 persons on board and as a lifeboat with a 40 person capacity.