Deal Reached to End MyFerryLink Dispute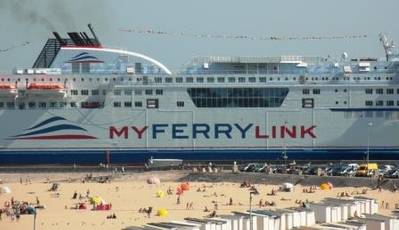 A deal was reached on Monday to save hundreds of ferry jobs at the northern French port of Calais, the French transport minister said, ending a dispute that has disrupted traffic through the Channel Tunnel linking France and Britain.
Workers at ferry service MyFerryLink had intermittently blocked the port and the tunnel in recent weeks in a protest over job cuts, after the company, previously owned by Eurotunnel , was sold to Denmark's DFDS.
The dispute has added to public order concerns in Calais, where thousands of migrants are camped in the hope of boarding trains or lorries destined for Britain.
Some 487 jobs were under threat.
Under the deal, Eurotunnel and DFDS will create 402 jobs and will pay an "indemnity", or additional compensation on top of regular redundancy terms, to employees left jobless as of Jan. 1, 2016, French transport minister Alain Vidalies, who helped broker the deal, said in a statement.
DFDS already operates two ferries between Dover and Calais and three ferries between Dover and Dunkirk.
The workers, who have since early July occupied the Berlioz and Rodin ships that Eurotunnel is selling to DFDS, agreed to hand them over on Sept. 2 as part of the deal.
(Reporting by Dominique Vidalon; Editing by David Holmes)