"Your nation needs you … now more than ever in our history"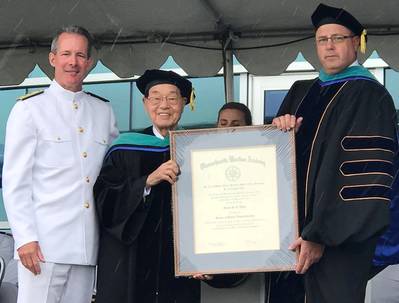 The words of General Darren McDew rang true to Massachusetts Maritime Academy's nearly 400 graduates on a beautiful, albeit rain soaked, Saturday this past June.
General McDew, who received an honorary doctorate at the 2018 Commencement, leads the United States Transportation Command and, in that role, oversees our nation's projection of force wherever it is required in the world.

Joining General McDew in receiving honorary doctorates were Dr. James S.J. Chao, Foremost Group Founder, Honorary Chairman and accomplished Master Mariner; the Honorable Karyn Polito, Lieutenant Governor of Massachusetts; and MMA Board Chair-emeritus and 1987 graduate, Mr. Wayne Mattson. And on the Dias joining the many other dignitaries and accompanying her father was former MARAD deputy administrator, former US Secretary of Labor and current US Secretary of Transportation, the Honorable Elaine L. Chao.

The Commencement marked the largest graduating class in MMA's 127 year history.