Coast Guard Cadets Navigate 'Eagle' by Sextant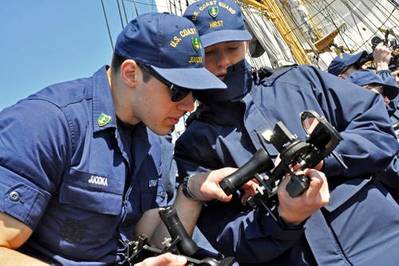 US Coast Guard cadet training barque 'Eagle' completes its first week of the cadet summer training deployment in the Atlantic Ocean.
Eagle left its homeport in New London, Conn., and sailed more than 600 miles headed to the Caribbean while under sail power and using celestial navigation. The ship's navigator secured all means of electronic navigation, leaving the cadets to ensure they arrive at their next portcall with only a sextant and the stars.

Serving as an afloat training platform for more 140 Coast Guard Academy cadets at a time, Eagle's summer deployment spans 11 weeks, visiting at nine port calls in five countries, with four different groups of cadets training onboard.

"The Eagle crew has challenged these future officers, especially the upper class cadets, to assume the leadership roles of junior officers while sailing the barque, and they have truly taken ownership of this responsibility, said Capt. Wes Pulver, Commanding Officer of Eagle. "Upperclass cadets are leading the rising sophomores during navigation, engineering, bridge, and deck watches, and are helping them understand how a Coast Guard cutter operates while at sea. The challenges of living aboard and manning a square-rigger on the open ocean are building the teamwork, character, and leadership skills necessary for success as officers in the Coast Guard."

There are currently 24 upper class cadets from the Coast Guard Academy and 120 cadets who just completed their freshman year.

The cadets have faced a myriad of challenges since stepping aboard Eagle working through nearly 12-foot seas to set and handle the 23 sails onboard as they acquire their sea legs. They have climbed the barque's 147-ft. tall masts through harsh weather and stood bridge, command in control, and engine room watches in the 24-hour classroom. Cadets are learning and training in fire fighting, celestial navigation and weather forecasting.