Artemis Diver Sonar and Navigation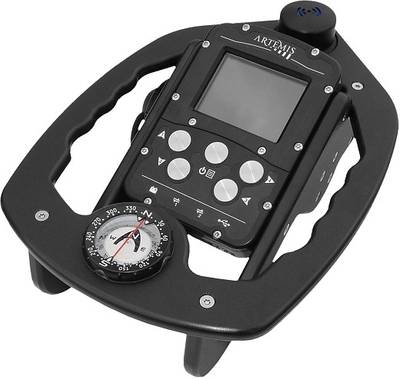 Artemis is a modular handheld console that can be configured as a diver target detection sonar and GPS underwater navigation aid.

Intuitive and easy to use, the user can quickly interpret information presented via the simple menu interface and graphical display, while sonar, navigation and other apps are selected and controlled via a five-button interface. Artemis is neutrally buoyant, and its lanyard supplied can be attached to a D-Ring or other securing point on the diver, enabling the unit to hang free during descent/ascent. The modular system features a titled 3.5" color LCD and has a swappable rechargeable battery pack located at the bottom of the unit that can be changed during the dive. Artemis is fitted with an internal 16GB storage memory for data logging, a pressure sensor, digital and mechanical compasses and GPS location fix via tethered buoy.

Future options will include though water coms to enable integration to existing GPS systems.

Demo systems are available.