Verreault Navigation Dry Docks French Coastal Carrier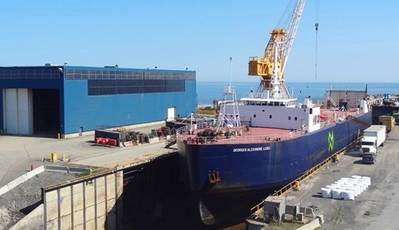 France's Verreault Navigation sees the vessel 'Georges Alexandre Lebel' through its scheduled dry-docking.
The Georges Alexandre Lebel was in the Verreault dry dock from July 30, to August 4, 2012 for various steel work and machinery repair and maintenance programs.
In addition to sandblasting and repainting the hull, the ship's starboard propellor shaft and rudder were dismantled, machined and replaced.
One bunker fuel tank was cleaned by high pressure hose.
The company felt sure it had kept to its promise to the customer by delivering a timely dry-docking on budget.