Navy Rolls Out Littoral Combat Ship Anti-Submarine Warfare Mission Package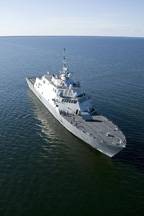 By Mass Communication Specialist 2nd Class (SW/AW) Brian Gaines, Fleet Public Affairs Center San Diego
A ceremony to mark the rollout of the anti-submarine warfare (ASW) mission module for the littoral combat ship (LCS) was held Sept. 19 at Naval Base Point Loma.

The Program Executive Office for Littoral and Mine Warfare, Naval Sea Systems Command, Naval Undersea Warfare Center, Space and Naval Warfare Command (SPAWAR) and Space and Naval Warfare Systems, San Diego, hosted the event.

According to the Deputy Assistant Secretary of the Navy for Research, Development, and Acquisitions, Anne Sandel, this is the third mission package to be released for use with the LCS class of ships. The other two packages are the mine and surface warfare mission modules. The LCS can be configured to deploy with any one of the three interchangeable mission modules typically within 96 hours depending on the nature of the mission.

The new mission module package offers new technologies, such as a new unmanned surface vehicle (USV), the vertical takeoff unmanned aerial vehicle (VTUAV), a new dipping sonar and towed array sonar devices.