Neele-Vat Logistics Sets-up at City Terminal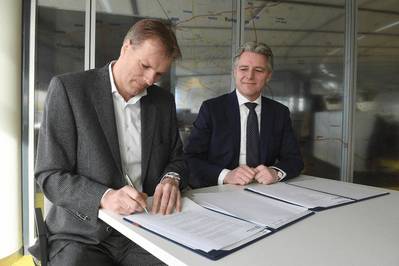 Europe's logistics services provider Neele-Vat Logistics and the Port of Rotterdam Authority have signed a contract for the development of a distribution centre on the last vacant lot at the City Terminal site near Eemhaven (Heijplaat-Rotterdam).

According to a press release, the logistics service provider will be using the new distribution centre for 'cross-docking': unloading cargo from an incoming transport unit and combining it with other cargo which is then loaded onto an outbound transport unit. The entire process takes place with next to no need for interim storage.

"A number of major short sea shipping companies have told us that they see added value in a cross-dock facility. This agreement is in line with the further development of the City Terminal site into a multimodal short sea hub and European continental cluster," says Emile Hoogsteden, the Port Authority's Director of Containers, Breakbulk and Logistics.

"Neele-Vat Logistics wants to build a hall with around 10,000 m² of storage capacity, 60 dock doors and an annual throughput of some 50,000 containers. We expect to start on the centre's construction next year and to start our distribution activities there in the course of 2021," says Neele-Vat Logistics' CEO Cuno Vat.

Rotterdam's City Terminal is steadily developing into the port's second large-scale container location, accommodating a range of logistics parties that include SCA (breakbulk), RST/Steinweg (containers), RSC (rail terminal), Kramer (container repairs and storage), MRS (container services) and Kloosterboer (reefer transport).