China-built Barges Offloaded in the Netherlands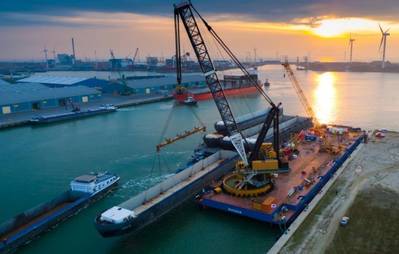 'Conquest MB I', a 1500 ton offshore heavy lift crane barge from Conquest Offshore, unloads hulls at Flushing, the Netherlands.

The six hulls were built in China and loaded on the barge NP 328 for the tow to Flushing by Holland Offshore's newly built tugboat Dutch Blue.

Conquest MB 1: Principal Particulars

• 136 x 36 m heavy duty barge
• Total deck space – approx 4900 m2
• Total free deck space for cargo - 3700 m2
• Deck strength of 20 ton/m2
• Complete ballast and fully automatic anti healing system
• 1500 metric ton lifting capacity
• Total weight 2000 ton
• Dynamic Load System (DLS)
• 63-75 m (207-246 ft) heavy duty double boom
• 97-124 m (318-400 ft) long single boom

Conquest Offshore BV is a Dutch Joint Venture between Concordia Offshore BV and Zwagerman Offshore Services BV for offshore transportation, removal, refurbishment and construction activities. Both companies say they have a proven track record of success in the marine and offshore industry.