Neuville Boat Works' 47-Footer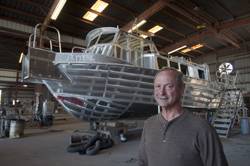 Work has been slow in a lot of Louisiana shipyards in the past couple of years. With orders for big crew boats in short supply, Neuville Boat Works of New Iberia, has been meeting steady orders for their 47-foot crew boats.
The yard has been building this design, with a few modifications, for several decades. In the earlier days they built a 41-footer many of which are still working. Neuville recently delivered one of their 24-passenger vessels to Inland and Offshore Contractors Ltd. of Trinidad and are currently building another for the Bahamas Oil Refining Company (BORCO). The firm is the largest storage terminal facility in the Caribbean, with the ability to store, blend, transship, and bunker fuel oil, crude oil and various petroleum products. As with others in the class, the BORCO boat is fitted with a pair of 400 HP at 2100 RPM Cummins QSL-9 diesels turning open propellers through Twin Disc gears. Running light, the boat will achieve 24 knots.

The raised pilot house has seating for two crew while the main deck cabin includes seating for the 24 passengers plus the head. The vessel is fully air-conditioned. A second set of controls is mounted on the aft of the main cabin. The aft deck can carry up to 4000 pounds of cargo. A pair of 250-gallon ballast tanks are located in each stern quarter while an additional ballast/collision bulkhead is located forward. Tankage is provided for 300 gallons of fuel. The version for BORCO has a push bumper on the bow to facilitate the transfer of crews to and from barges.