New Alaska Limit Seine Boat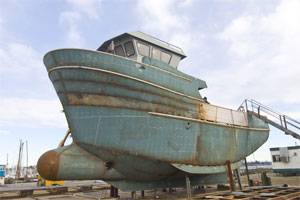 For many years Alaskan salmon purse seiners have been limited to a length of 58 ft. This led to the development of some beautiful and relatively beamy wooden boats in the 1950s. In the intervening decades designers have fine-tuned the 58 ft design to add beam and depth.

An example of this is being built at Westman Marine in Blaine Washington to a design by Hockema & Whalen Associates Inc. of Seattle and Bellingham Washington. The new hull has the standard 58 ft overall length with a hefty 25 ft beam and a full 11.7 ft moulded depth. This provides for two refrigerated saltwater 2,700 cubic ft holds and a dry freezer hold of 550 cubic ft bait hold.

In the engine room set well forward in the hull a 660-hp Cummins QSK19-M Tier 2 compliant main engine is linked to a Twind Disc MG5170 marine gear with a 6:1 ratio. The intermediate and tail shaft total about 30 ft in length and are supported by roller bearings rather than the older babbit bearings. Under the 72-inch propeller and rudder a section of hydro-wing provides lift at the same time as enriching the water flow to the prop. Running forward a section of iron keel plate adds about a foot to the depth. Welded to this vertical a plate about 4x10 inches provides external ballast. A bulbous bow extends out from the bow and encloses a bow thruster.

Both port and starboard bulwarks are of stainless steel along the working deck. On the starboard side this extends down past the guard to give added protection where pots or long line gear would be hauled. Additional stainless plate is mounted on the transom. The boat will be fitted with a sonar which, like all electronics, will be from Furuno.

Tankage includes; 8,991 gallons for fuel, 120 gallons for lube oil, 230 gallons for hydraulic oil, 166 gallons of waste oil, 1873 gallons for water, 58 gallons for sewage holding and 120 gallons for grey water holding.

This is clearly a vessel designed to meet the needs of a discriminating fisherman. The boat, to be delivered to Eric Rosvold of Petersburg Alaska in late April, will have both long-lining and seining capabilities.