MOL, Osaka Gas's Newbuild LNG Carrier Named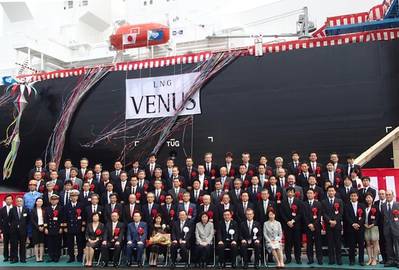 Mitsui O.S.K. Lines, Ltd. (MOL) announced that a naming ceremony for the LNG Venus, a newbuilding liquefied natural gas (LNG) carrier, was held at the Nagasaki Shipyard of Mitsubishi Heavy Industries, Ltd. (MHI). The vessel is under construction at MHI and will serve Osaka Gas Co., Ltd.

As a large group of guests looked on, Osaka Gas President Ozaki named the vessel, and his wife cut the rope.

The LNG Venus is co-owned by MOL and Osaka Gas' wholly owned subsidiary, Osaka Gas International Transport Inc. After its completion, it will sail under a charter contract with Osaka Gas.

LNG Venus
Length: 288 m
Breadth: 48.94 m
Draft: 11.55 m
LNG tank: MOSS independent stretched spherical-type tank system (with continuous tank cover)
Deadweight tonnage: 138,000 MT
Tank capacity: About 155,000 m3 (Actual loading capacity: 153,000 m3)
Main engine: Reheating system steam turbine
Speed : 19.5 knots
Shipyard: Mitsubishi Heavy Industries, Ltd. Nagasaki Shipyard
Ship management company: Mitsui O.S.K. Lines, Ltd.