Siemens Charter Newbuild Offshore Wind Service Vessels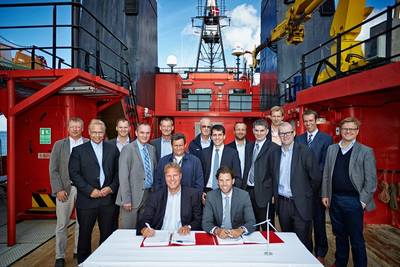 Siemens Energy has signed a chartering agreement with ship owner Esvagt A/S for two new offshore wind service vessels commissioned specifically for Siemens' service operations at the Butendiek and Baltic II offshore wind power plants, Germany, both of which are scheduled to come online in 2015.
Rather than the floating hotels that use smaller vessels or helicopters to access the turbines, the new vessels will provide direct access using an advanced hydraulic gangway system that will work to stabilize and provide safe access to the turbines at varying wave conditions. They will also include accommodations for more than 30 technicians for several weeks at a time, enabling them to live and work at the project site and to spend less time traveling to and from shore.

Ship owner Esvagt A/S plans to construct the two highly advanced offshore service operations vessels (SOV) from the ground up incorporating the latest in advanced logistics, design and safety for providing service and maintenance at offshore locations, particularly those located very far from shore. The vessels will serve as floating offshore accommodation platforms with spare parts storage and on-site office space.

The vessels will be strategically positioned in close proximity to the wind turbines for easier access and more streamlined operations. Via the hydraulically stabilized gangway technicians are enabled to literally "walk to work".

Within the framework of providing service for both wind power plants via long-term service agreements, Siemens signed the chartering contract with Esvagt A/S for the use of both service operation vessels. The construction of the vessels is scheduled to start this month at the Havyard Shipyard in Norway with launch anticipated for early 2015. When completed, each vessel will measure 84 meters in length with a maximum speed of 14 knots.
Picture: Søren Nørgaard Thomsen, Managing Director of Esvagt A/S, and Henrik Olsson, Head of Siemens Service Wind EMEA, sign chartering agreement for the two new vessels.