Goodrich Deliver Composite Sail Cusps for USN Sub Newbuildings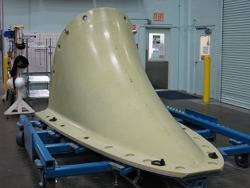 Goodrich delivers first composite sail cusp for Virginia Class submarine
Goodrich Corporation recently delivered its first composite sail cusp to Newport News Shipbuilding, a division of Huntington Ingalls Industries.
Goodrich is under contract to manufacture lightweight, composite sail cusps for the next eight Virginia Class nuclear fast attack submarines, collectively referred to as Block III. Fabrication of all eight sail cusps will occur at Goodrich's Engineered Polymer Products (EPP) facility in Jacksonville, Fla.
The sail cusp is a single-piece composite fairing attached to the hull and lower leading edge of the submarine sail (the vertical fin on top of the hull). The complex double curvature shape of this lightweight structure allows for smooth laminar flow of water over its surface, thereby improving hydrodynamic performance of the submarine.
The Virginia Class submarine is the U.S. Navy's newest nuclear fast-attack submarine class. It was designed from the keel up for the full range of mission requirements in the post-Cold War era, including anti-submarine and surface ship warfare; delivering special operation forces; strike; intelligence, surveillance and reconnaissance; irregular warfare; and mine warfare.