Safe Bulkers' Stock Offering May Fund New-buildings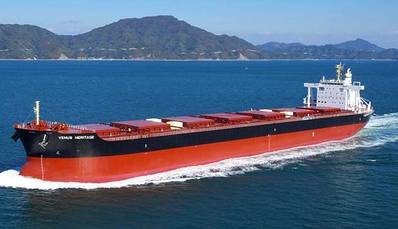 Greek dry-bulk ship owners Safe Bulkers, Inc. plans to offer 5,000,000 shares of its common stock to the public.

The Company plans to use the net proceeds of the Public Offering and Private Placement for vessel acquisitions, capital expenditures and for other general corporate purposes, which may include repayment of indebtedness.

In connection with the Public Offering, the Company intends to grant the underwriters a 30-day option to purchase up to 750,000 additional shares of Common Stock. Concurrently with the Public Offering, the Company is also selling through a private placement 1,000,000 shares of its Common Stock to Bellapais Maritime Inc., an entity associated with its chief executive officer, Polys Hajioannou, at the public offering price (the "Private Placement").

Morgan Stanley and Evercore are acting as book-running managers of the Public Offering, which is being made under an effective shelf registration statement.

When available, the prospectus supplement and accompanying base prospectus relating to the Public Offering may be obtained from Morgan Stanley, 180 Varick Street, 2nd Floor, New York, NY 10014, telephone: 1-866-718-1649, Attn: Prospectus Department, email: prospectus@morganstanley.com, or Evercore, 55 East 52nd Street, 36th Floor, New York, NY 10055, Attn: Evercore Prospectus Department - Equity Capital Markets, email:ecm@evercore.com.