Oceanview Night-Vision on Zyvex Boats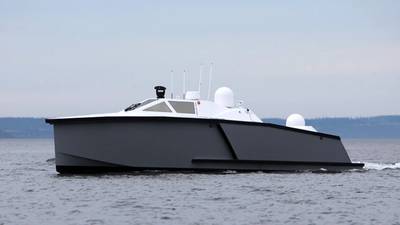 Zyvex Marine selected OceanView Technologies' Zeus Night-Vision Camera for use in its product portfolio of nano-composite vessels.
This is the first OceanView product chosen by the boatbuilder. "We are excited about the new future of lightweight vessels that take advantage of the latest in materials and systems technology," said Mike Nemeth, director of commercial and defense applications at Zyvex. "The extreme nature of this vessel and its 24/7 surveillance characteristics underscore the quality and reliability of OceanView cameras," said Mike Bader OceanView CEO. "We are pleased to be part of this project and others like it in the future."
The Zeus Camera has 2-axis, fiber-optic stabilization. This system takes thermal imaging to the apex of night vision capabilities. The Zeus also includes object tracking, enabling it to lock on another vessel, a man overboard, aircraft, debris or a buoy and keep that object in the center of the picture. HD is an available option for the Zeus camera. The Zeus is ideal for private vessels such as megayachts, expedition yachts and sportfish vessels.

Zyvex Marine, a division of Zyvex Technologies, is building the next generation of vessel platforms. Zyvex is the premier provider of nano-composite vessels in both manned and unmanned configurations. Zyvex developed the first nano-composite vessel, a 54' unmanned surface vessel prototype, setting new standards for an unmanned vessel in the areas of range, speed, sea keeping and payload.