NOAA, Coast Guard to Collect Data from a Great Lakes Icebreaker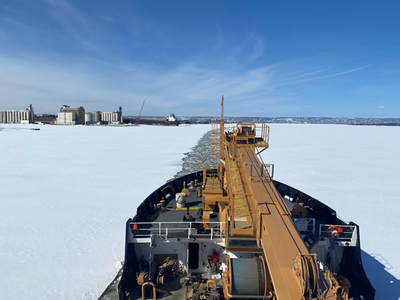 This week, NOAA's Office of Response and Restoration (OR&R) scientists worked with the U.S. Coast Guard during ice-breaking in Lake Superior Harbor in Duluth, Minnesota, aboard the Coast Guard Cutter Spar. This project is the first set of experiments funded by the newly developed Great Lakes Center of Expertise.
Teams from both Coast Guard District 9 and NOAA deployed uncrewed aircraft system (UAS) with multispectral, thermal and LIDAR sensors to collect data while the Spar was breaking ice in the harbor. The team collaborated to develop data and mapping products that will advance our ability to characterize ice and water, and ultimately oil, in ice environments.
This project builds from previous research with oil and diesel in controlled settings, and from field testing conducted in the North Slope of Alaska. These field trials will allow the team to develop techniques for collecting and delivering data from an operating response vessel, enhancing the Coast Guard's ability to deploy resources for spill characterization in ice environments.
The team is traveling to Lake Superior State University, one of the Great Lakes Center of Expertise locations, for additional land-based testing with oil and diesel in combination with ice, freshwater, and diesel, adjacent to the shores of the St. Marys River.