Composite Material Inspection: New Mobile, Non-destructive Testing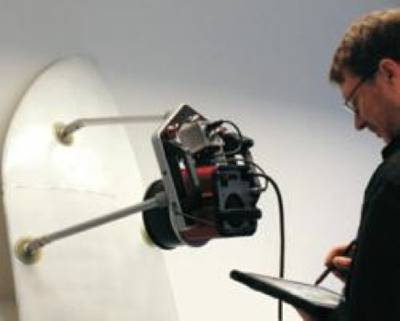 MoviTHERM – Advanced Thermography Solutions – introduces 'C-CheckIR' to detect composite material defects.
The new system, called "C-CheckIR" uses active thermography to detect delamination, water inclusion, debonding, and other types of composite material defects.

The suppliers say that the new, easy-to-use system requires no specialized training and is controlled using a tablet PC and intuitive software interface. More cost-effective than similarly-capable ultrasonic inspection systems, the new C-CheckIR system brings active thermographic NDT inspection within reach for entirely new market sectors.

The C-CheckIR controller software includes inspection presets for common composite materials, such as carbon-fiber reinforced plastic (CFRP/CRP) and glass reinforced plastic (GRP). This enables operators to start measuring immediately. Inspection parameters are completely adjustable, enabling custom configurations, but the majority of standard inspections will require only minimal set-up prior to obtaining useful results.

Measurements are completed in just a few seconds. The integrated optical excitation source provides thermal excitation to the sample under test. The system's thermal camera captures a sequence of inspection images for analysis. The results of the analysis are presented in the form of an image, graphically revealing the internal structure of the inspected material. Typical defects such as delaminated regions are easily identified in the result image.

Unlike other thermographic inspection devices that are designed for stationary operation, C-CheckIR is designed for portability. The entire system is compact and fits in a single ruggedized transport case. The system's inspection head is mounted on a lightweight, aluminum support frame. Vacuum-powered suction-cup feet enable operators to inspect objects and surfaces in any position and at any arbitrary angle, including vertical or under-side surfaces. Pressing a button engages the vacuum, fixing the inspection frame firmly to the surface under test.