UKHO 'Living with ECDIS' Seminars at Nor-Shipping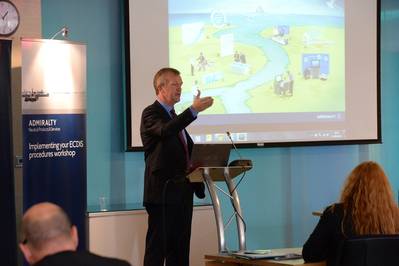 Seminar to include information on updated IHO ENC Standards
The United Kingdom Hydrographic Office (UKHO) has announced the details of its free-to-attend ECDIS Seminars at Nor-Shipping, which have been updated to include the implications for shipowners and operators of the updated IHO ENC (Electronic Nautical Charts) Standards.
The UKHO's 'Living with ECDIS' Seminars will take place on Wednesday, June 3 and Thursday, June 4 at Nor-Shipping and will be presented by Captain Paul Hailwood, a renowned expert on ECDIS and integrated bridge operations, and Tom Mellor. Tom Mellor is the UKHO's Head of Original Equipment Manufacturer (OEM) Support and Digital Standards and also the Chairman of the ENC Working Group that assesses standards on behalf of the IHO.
Living with ECDIS requires shipowners and operators, ship managers and serving officers to be aware of changes in legal requirements, compliance and maintenance issues surrounding the adoption and ongoing management of ECDIS. This free UKHO seminar will benefit anyone involved with the shipping industry, including managers, owners, ship personnel, regulators and auditors, in order to fulfill this important requirement.
During the seminar, the responsibilities of the shipping company will be highlighted and discussed in relation to the key topics (legal requirements, ECDIS maintenance, chart data considerations, ECDIS management), with questions and comments from delegates encouraged.
For the first time, the seminar will look at the recent updates to ENC Standards introduced by the
International Hydrographic Organization
(IHO). Tom Mellor will explain how these updates address the ambiguities and inconsistencies identified relating to the display of ENCs in ECDIS, as well as the importance of why shipping companies will need to comply with the new IHO Standards.
Speaking ahead of Nor-Shipping 2015, Tom Mellor commented, "Over the last three years, the UKHO has provided ECDIS advice to thousands of people around the world. From our first 'Are You Ready for ECDIS?' seminar to the latest 'Living with ECDIS' seminar at Nor-Shipping, we have sought to ensure that the guidance we offer reflects the progress that ship owners and operators have made in their own use of ECDIS and the challenges they face at each stage. Captain Hailwood and I look forward to meeting with delegates at Nor-Shipping and answering their questions on ECDIS maintenance and management, legal requirements and the updated IHO S standards."
Both seminars are free to attend. Delegate places can be booked online at www.regonline.co.uk/Nor-Shipping2015
UKHO staff will be available throughout the seminars to explain how ADMIRALTY Nautical Products & Services can help to deliver compliance and efficiency, as well as providing live demonstrations on the UKHO stand at B02-19.