Huge New Northern Sea Route LNG Carrier Named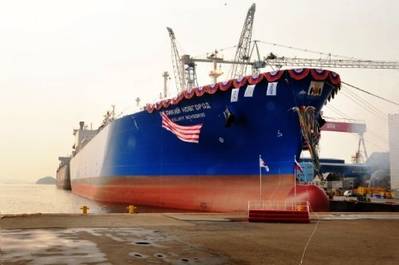 The new Russian-flag liquefied natural gas (LNG ) carrier was named 'Velikiy Novgorod' at the STX O&S shipyard in the city of Jinhae (South Korea) and becomes the fifth in Gazprom's tanker fleet.

Gazprom explain that the Velikiy Novgorod is a gas carrier with membrane cargo tanks and a cargo capacity of 170.2 thousand cubic meters. It has dual-fuel diesel-electric propulsion, which can be powered by LNG, fuel oil or gasoil. The vessel is certified as an Ice2 class vessel and can ship cargoes in low-temperature conditions, including via the Northern Sea Route during the appropriate navigation period

The Russian-manned ship is classified according to the Russian Maritime Register of Shipping and Lloyd's Register.

Gazprom Marketing & Trading (GM&T) will charter Velikiy Novgorod from Russian shipping company Sovcomflot. It will be the first vessel in a series of high-tech ice-class LNG carriers that have been designed to Gazprom's order.

Taking part in the ceremony were Alexander Medvedev , Deputy Chairman of the Gazprom Management Committee and Sergey Frank, Director General of Sovсomflot .

Gazprom add that it is pursuing a stagewise strategy in the LNG production and supply sector, and as part of those efforts, it is creating its own tanker fleet capable of shipping LNG to any terminal of the world, as well as along the Northern Sea Route.