Northern Sea Route Ice-free Soon?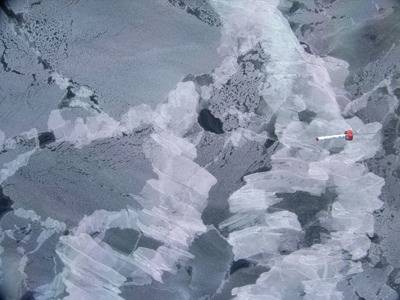 Winter measurements by Alfred Wegener Institute for Polar and Marine Research point to early and large scale summer melt
The Northern Passage, the sea route along the North coast of Russia, is expected to be free of ice early again this summer. The forecast was made by sea ice physicists of the Alfred Wegener Institute for Polar and Marine Research in the Helmholtz Association based on a series of measurement flights over the Laptev Sea, a marginal sea of the Arctic Ocean.
Amongs experts the shelf sea is known as an "ice factory" of Arctic sea ice. At the end of last winter the researchers discovered large areas of thin ice not being thick enough to withstand the summer melt.
The "EM Bird", the torpedo-shaped, electromagnetic ice thickness sensor of the Alfred Wegener Institute, was hung on a cable beneath a helicopter. It constantly recorded the thickness of the floating ice. "We now have a unique data set which we primarily want to use to check the measurements of the earth investigation satellite SMOS", says Thomas Krumpen of the Institute.
The SMOS satellite measurements from March and April of this year confirm that the thin ice areas discovered by the expedition team were no locally restricted phenomenon: "A large part of the North-East Passage was characterised by surprisingly thin ice at the end of the winter", he added.