New Rescue Vessel for Russia's Northern Fleet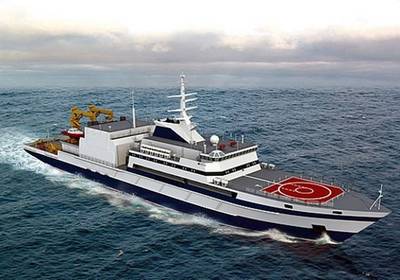 New multi-purpose rescue vessel for Northern Fleet under construction by Admiralty Shipyard in St Petersberg
The "Igor Belousov" will significantly strengthen the Northern Fleet's ability to engage in search and rescue operations, 14 years after the disaster with the Kursk submarine in the Barents Sea, reports the 'Barents Observer'. Russia's new rescue vessel will be able to help out wrecked submarines, engage in complex search operations, and take part in military action.
Currently under construction by the Admiralty Shipyards in Sankt Petersburg, the vessel will be able to connect with any wrecked submarine and take on board 60 submariners for decompression. It will have a landing pad for helicopters, vacuum chambers, under-water equipment able to operate on 700 meter depths and an advanced deepwater diving complex. In addition, the vessel will reportedly be equipped with advanced weaponry. The vessel will be put on the water in October 2012 and handed over to the Russian Northern Fleet in November 2014.
The vessel will be the first search and rescue vessel built in Russia for almost 30 years. It is expected that all Russian fleets will get the ship, the next in line is believed to be destined for the Pacific Fleet.