Northern Sea Route Traffic to be Joined by Russian Navy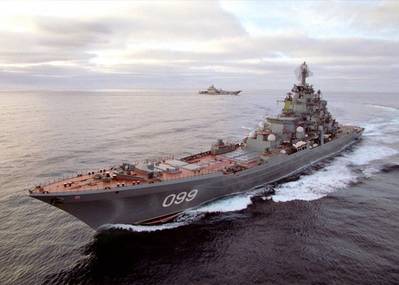 Two vessel groups from Russia's Northern Fleet will be sailing Arctic waters during the busiest season for commercial shipping along the Northern Sea Route reports the 'Barents Observer'.
Citing Commander Vladimir Korolev's press statement Barents Observer reports that the Russian Navy plans to send a detachment of the fleet's combat ships led by the nuclear-powered missile cruiser "Pyotr Velily" to eastern regions of the Arctic Ocean".
Another vessel group will sail to the archipelago Franz Josef Land, an event that will mark the 100th anniversary of the expedition to the North Pole of the Russian Arctic explorer Georgy Sedov.

Also in 2012 the Russian Navy carrier out training in the High North. After a large-scale naval exercise which included more than 7000 people and some 20 vessels, personnel from the Northern Fleet conducted Russia's first ever amphibious landing on the Arctic archipelago of the New Siberian Islands.
Source: Barents Observer