Northrop Grumman-built Amphibious Dock Ship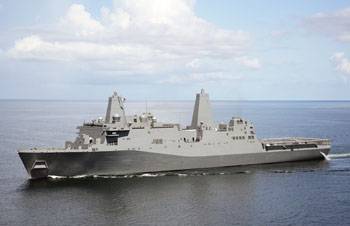 The Northrop Grumman Corporation-built amphibious transport dock ship (LPD 20) completed builder's trials last week, a collaborative effort between the company's Shipbuilding sector and the U.S. Navy. Northrop Grumman Shipbuilding, the newly-formed sector of Northrop Grumman Corporation, is made up of the former Northrop Grumman Ship Systems and shipbuilding sectors. Rigorous testing was performed on the ship's main propulsion, communications, steering, navigational, radar and other systems. Other exercises included anchor handling, flight operations, compartment air balancing and ballasting/de-ballasting of the well deck, where amphibious landing craft will be launched.
Later this month, the U.S. Navy's Board of Inspection and Survey team will conduct acceptance trials aboard LPD 20, which will involve more rounds of extensive testing of the ship's major systems.'s mission is to embark, transport and land elements of a landing force in a variety of expeditionary and special operations missions. is an LPD 17-class ship. The ship is 208.4 meters (684 ft.) long, 31.9 meters (105 feet) wide, and will replace the functions of the LPD 4, LSD 36, LKA 113, and LST 1179 classes of amphibious ships. This new ship class affords the Navy's Expeditionary Strike Group with the technology and flexibility to launch and recover amphibious landing craft such as the Landing Craft Air Cushion, operate an array of rotary-wing aircraft, as well as carry and launch the U.S. Marine Corps' Expeditionary Fighting Vehicle.